NEPRO PIPES INDUSTRIES PVT LIMITED
Nepro Water Tanks are a key addition to the company's initial lineup of above-ground water storage solutions. These products are crafted through the roto moulding process and serve as essential assets for residential homes, office buildings, industrial facilities, commercial establishments, and medical facilities requiring substantial volumes of clean water storage. They are thoughtfully engineered with a top-notch construction: an outer white layer for UV resistance, an insulated black middle layer that helps maintain water temperature below ambient levels, and an inner layer made of food-grade polymer to prevent water contamination.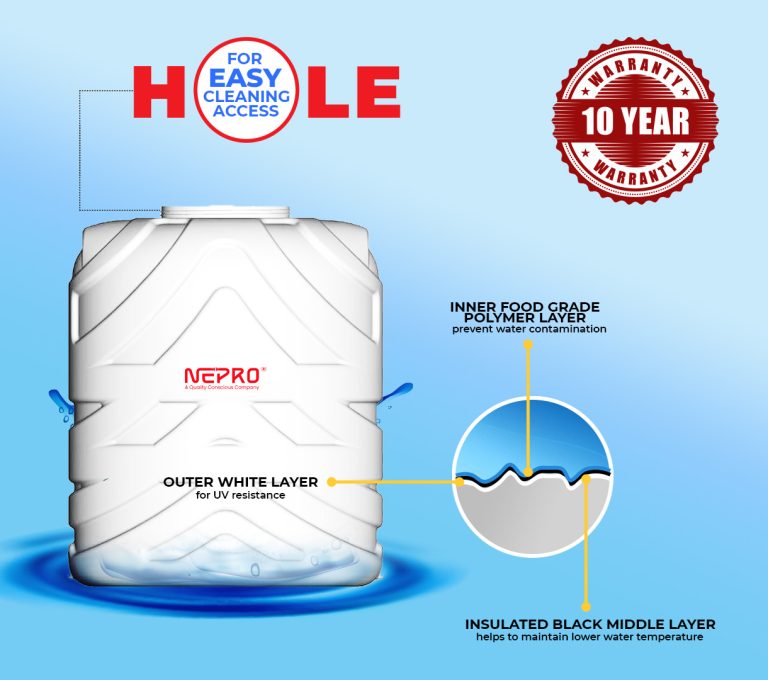 HOW WE ACHIEVE PAKISTAN'S BEST QUALITY
Nepro's two decades of first-hand experience in plumbing and sanitation gives a unique advan- tage of knowing the subject like no other.
1
MATERIALS & STANDARD
The raw materials used in the manufacturing of our pipes & fitting conform to global quality standards & display exceptional degrees of homogeneity.
2
EDGE QUALITY
Assurance Procedures Total Quality at Nepro Means Maintenance of a comprehensive quality control system beginning from designing & storage and dispatch of the products.
3
LAUNCH
Nepro Water Tank is the only choice providing real value for money with their global quality at local prices.
REAL TIME USE OF NEPRO WATER TANK
Capacity: 400, 600, 800, 1000, 1200, 2000 Ltr.
NEPRO Water Tank Features Making it Superior