NEPRO HDPE (High Density Polyethylene) pipe is ideal for many different applications includ- ing municipal, industrial, energy, geothermal, landfill and more. NEPRO HDPE pipe is strong, durable, flexible and light weight.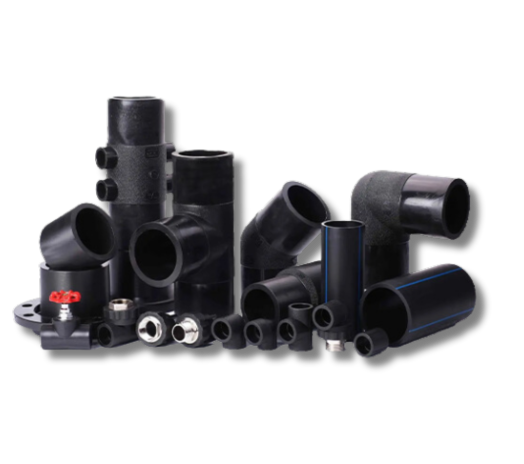 When fused together, NEPRO HDPE pipe has a zero leak rate because the fusion process creates a monolithic, HDPE system. NEPRO HDPE pipe is more environmentally sustainable option as it is non-toxic, corrosion and chemical resistant, has a long design life, and is ideal for trenchless installation methods because of its flexibility.
Nepro HDPE Pipes are manufactured in utter compliance of the following standards and regulations:
HOW WE ACHIEVE PAKISTAN'S BEST QUALITY
Nepro's two decades of first-hand experience in plumbing and sanitation gives a unique advantage of knowing the subject like no other.
1
MATERIALS & STANDARD
The raw materials used in the manufacturing of our pipes & fitting conform to global quality standards & display exceptional degrees of homogeneity.
2
EDGE QUALITY
Assurance Procedures Total Quality at Nepro Means Maintenance of a comprehensive quality control system beginning from designing & storage and dispatch of the products.
3
LAUNCH
Nepro HDPE Pipes & Fittings are the only choice providing real value for money with their global quality at local prices.
"NEPRO HDPE Pipes Installation: Mastering Butt Fusion for Seamless Joints"
These HDPE pipes, known for their toughness and flexibility, are an absolute game-changer. They're not only incredibly lightweight but also pack a punch when it comes to cost savings in both above-ground and below-ground installations. Trust us, these pipes are like the superheroes of the plumbing world, standing strong against site damage. But remember, you gotta treat them right – common sense and a bit of TLC go a long way to ensure they perform like champions without a hitch.
Pipe Trench: Unleashing the Power of HDPE Pipes for Cost-Efficient Installation
Are you willing to gamble with your pipes when groundwater levels rise? The stakes are high! To guarantee the best pipe support, make sure the secondary initial backfill seamlessly extends from the primary initial backfill. But that's not all, folks! The minimum trench width? Well, that's like rolling the dice – it depends on unpredictable site conditions and the materials you're working with. And don't even get us started on foundations! They're not just optional. When the native trench bottom can't cut it, you better believe you'll need a solid foundation to save your pipe from disaster.
BUTT-FUSION & WELDING: The Art of Seamless Connection
Butt welding, also known as butt fusion, is the go-to way to join PE pipes. Here's how it works: a heater plate gets sandwiched between the ends of two pipes. They're pressed together, which makes the pipe ends all soft and pliable. After that, the heater plate is taken away, and the pipes come back together. They cool down while still under pressure, and voilà – you've got yourself a strong, leak-free, seamless connection.
Guidelines for Safely Handling NEPRO HDPE Pipes
Get Your Next Project Done!